The Staff
---
Our exceptional, friendly staff is our greatest asset. They are excited about what they do and they care personally about getting the best results for our patients. Our receptionists will try to accommodate your busy schedule by finding appointments that suit your needs.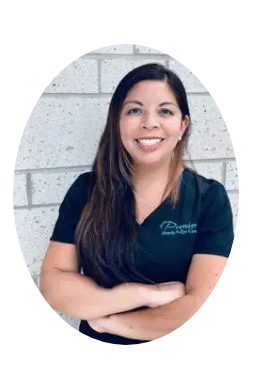 Jessica
Office Manager
Jessica is a Certified Paraoptometric Technician and Scribe, and a linchpin as essential as our fabulous doctors! She has been a part of the Premier team since "the beginning" in 2010 and is extremely knowledgeable regarding all aspects of the office. Not only does she understand the importance of each position and protocol within the office, but she deeply cares about the patient experience.
She began her journey in the eye care field as front desk staff in 2004, where her passion to assist patients and doctors led her to learn more skills. Jessica has completed all three levels of paraoptometric certification and wants to continue growing her vast knowledge in the field.
Jessica was born in Mexico City and is fluent in Spanish. She's also our resident daredevil! Jessica enjoys music, traveling and spends most of her time with her two children and family.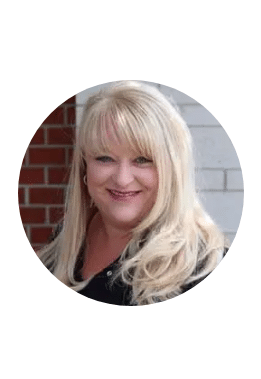 Tracy
Optician
Tracy Tucker, our optician, has been in the eye care field since 2007. After working for several years as a optometric technician, she grew in her adoration for the field and decided it was time for a change in her daily responsibilities. Tracy joined Premier Family Eye Care in 2012 as our optician. She is passionate about helping patients find that perfect pair of glasses, increasing their confidence and vision all the while. When not helping patients find that perfect pair of glasses, she enjoys spending time with her family and sharing her love of Jesus Christ with others through a variety of ministries she is actively involved in through her church.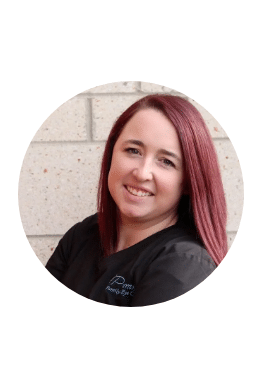 Brittney
Optometric Technician
Meet Brittney! In her role as optometric technician, and scribe she is an integral part of testing and preparing our patients for the doctors. Her favorite part of the job is getting to know each patient and helping them with any needs they may have. Outside of the office she is actively involved in leading her church youth group, which she says keeps on her toes, and young at heart. She loves spending time with her family, spoiling her niece, and her two dogs. Brittney is also a travel bug and jumps at any opportunity to explore new places.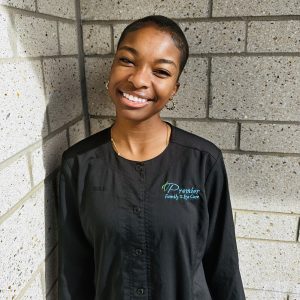 Lennie 
Optometric Technician
What Lennie loves most about Premier Family Eye is getting to know each patient individually and being able to make a great impact in their day. She always receives her patients with a smile, and expresses love and care with everyone!
Lennie graduated May of 2023 with a Bachelor of Science in Exercise Science and plans to further her education in the near future.
Outside of Premier, she enjoys singing with her church choir and traveling to different major events.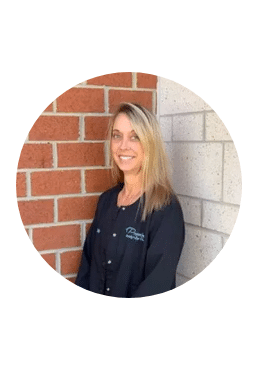 Kelly
Optician
Kelly is our office assistant and jack of all trades. She has been in the optometry and optical business since 1990! Kelly graduated from Auburn University in 1992 with a Bachelor of Business Administration. She worked at several optical shops while in college and has continued down the same road ever since. Kelly is very knowledgeable in all aspects of eye care, from patient care to insurance to fitting you with the perfect pair of glasses. In her downtime, she enjoys spending her time horseback riding and playing with her many dogs.
Beth
Optometric Assistant
Meet Beth! She has a strong customer service background and has eagerly joined the eye care field. Her desire to help and learn allows her to be a part of many aspects of the office. She prides herself on being friendly and tries to make your experience as personable as possible!
She also has a vast knowledge of animals and has worked in many positions involving them. Including watching over a baby sea turtle nest!
Beth dedicates her home life to spending time with her husband, son, and family.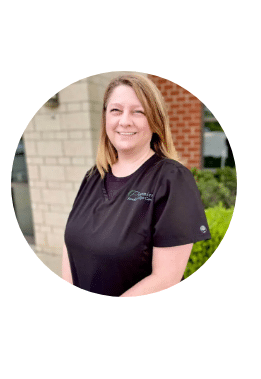 Dana
Front Desk
Dana comes from a retail background and has been in the eye care field since 2019. She is the person who will welcome you when you call to schedule an appointment or arrive for your exam. Dana has been married for over a quarter of a century and has 2 mostly grown children. In her spare time, she reads an abundance of romance novels or watches a ridiculous amount of sappy Lifetime Christmas movies.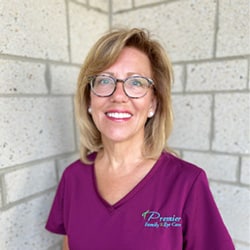 Dawn
Optician Assistant
Dawn and her husband relocated to Charlotte, Summer of '21 to be closer to their family.  She loves the blue skies of Charlotte and especially spending time with her grandkids on Lake Wylie!  
Dawn has an elementary education degree from The Ohio State University and a masters degree from the University of Colorado in instructional technology and gifted education.  She enjoys using her instructional skills to help patients learn to wear contact lenses.  With her background in teaching, she loves to work with the youngest patients, helping them choose frames and feel comfortable wearing glasses.  She's thrilled to be a part of the outstanding team at Premier Family