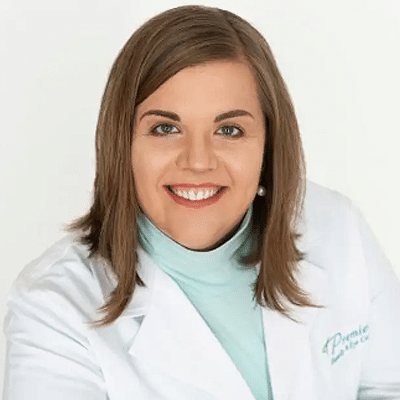 Dr. Laura Young OD
Dr. Laura Young lives in the Indian Trail area with her husband and three children. She grew up in a small farming town in northwest Ohio and was active in her community, even as a young person.
Dr. Young attended Adrian College in Michigan where she graduated summa cum laude with a bachelor's degree in biology. Dr. Young then graduated magna cum laude from The Ohio State University College of Optometry in 2005 with her Doctor of Optometry degree as well as a dual Masters in Vision Science Degree with an emphasis in Dry Eye Syndrome.
Following graduation, Dr. Young moved from Ohio to Salisbury, NC where she completed a Primary Care Residency at the Salisbury Veterans Hospital. There, Dr. Young practiced with a particular focus on ocular disease. After residency, she practiced in the Charlotte and Monroe area. Her dream came true when she opened Premier Family Eye Care in 2010.
Dr. Young truly desires to serve the people in her home area. She has enjoyed developing lasting relationships with the families in Indian Trail and surrounding area where she can serve the entire family through a lifetime. Dr. Young is very comfortable providing pediatric vision care, from infants to school aged children and is experienced with adults in all stages of life. Dr. Young is qualified and experienced with treating diseases of the eye such as dry eye syndrome, glaucoma, eye infections, eye allergies, and ocular trauma. Additionally, she can diagnose and manage care for eye diseases including cataracts macular degeneration, diabetic eye disease, and many more. Personalized care is a priority for Dr. Young, and she is known to treat her patients like they were her own family.
Prior to having children Dr. Young was involved with Christian eye care missions to Haiti. She still supports missions even though she is unable to go into the field at this stage in life.
Dr. Young thoroughly enjoys caring for her patients and optometric practice while in the office. In her off time she enjoys the blessings of motherhood while caring for her three small children. She enjoys traveling and camping with her family, being outdoors, spending time with friends, and scrap booking. She is an active member of Hopewell Baptist Church in Monroe. She is a member of the North Carolina Piedmont Optometric Society, the North Carolina Optometric Society, the American Optometric Society, and is a fellow in the American Academy of Optometry.